For VW TRANSPORTER T5.1 T6 2010+ CanBus LED DRL Headlight Upgrade Bulbs Super Bright
For VW TRANSPORTER T5.1 T6 2010+ CanBus LED DRL Headlight Upgrade Bulbs Super Bright - Lightec Autostyle
For VW TRANSPORTER T5.1 T6 2010+ CanBus LED DRL Headlight Upgrade Bulbs Super Bright - Lightec Autostyle
---
This is the brightness of each bulb, measured in Lumens (lm)
500 Im
This is the current draw of each bulb, measured in Milliamps (mA)
500 mA
This is the CanBus compatibility of the LEDs, measured as a percentage (%)
100 %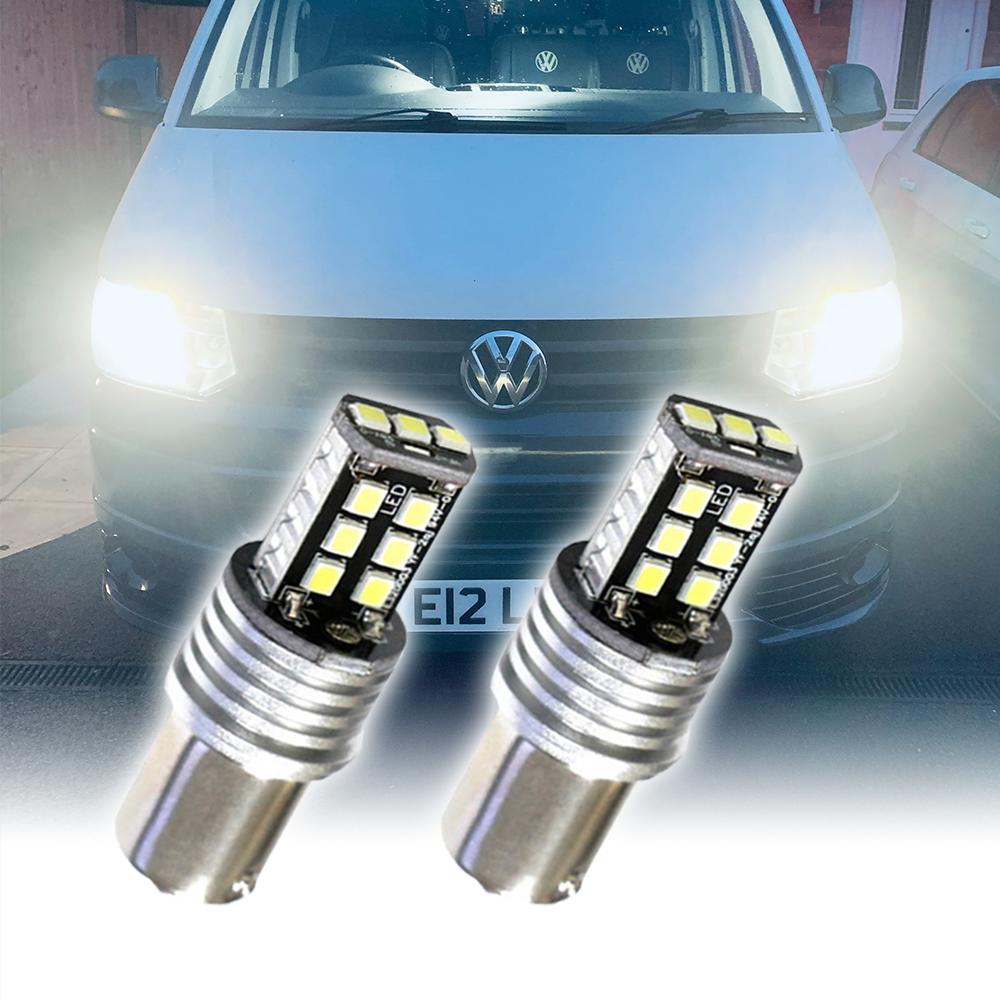 Send this to a friend
For VW TRANSPORTER T5.1 T6 2010+ CanBus LED DRL Headlight Upgrade Bulbs Super Bright
Product details
LIGHTEC HIGH QUALITY 15 LED CANBUS SAFE BA15S PLUG AND PLAY LED
- Bulbs sold in pairs (2pcs)
15 REVOLUTIONARY HIGH POWER LEDS PER BULB
Packing over 1000lm brightness per pair! These LEDs really are something else! Brightest on the market in this fitment!
FIT PERFECTLY IN VW TRANSPORTER T5.1 AND T6 (EXCLUDING SPORTLINE AND CARAVELLE)
High quality high power range for greater heat dissipation and prolonged lifespan. 
CANBUS ERROR FREE:
SPECIFICATIONS
- Immediate on/off response
- LED QUANTITY: 15 HIGH POWER LEDS
- Size: 52mm x 14mm
- PURE WHITE colour - no nasty blue tinge
- Brightness - 1000 lm 
- Voltage - DC 12 V
- Wattage - 20W each bulb
- Leds - 15 SMDs
- Lifetime - 50,000 hours
- Type - BAYONET BA15S 382 1156 (straight pin)
- Polarity - NO (these will work either way)
- CANBUS - Yes
- 100,000 hour lifetime
- Incredibly low power consumption
- 2 YEAR LIGHTEC WARRANTY