For VW GOLF MK6 MK7 H15 V8 LED DRL High Beam Flash Bulbs 6000k
This is the brightness of each bulb, measured in Lumens (lm)
3800 Im
This is the current draw of each bulb, measured in Milliamps (mA)
3800 mA
This is the CanBus compatibility of the LEDs, measured as a percentage (%)
99 %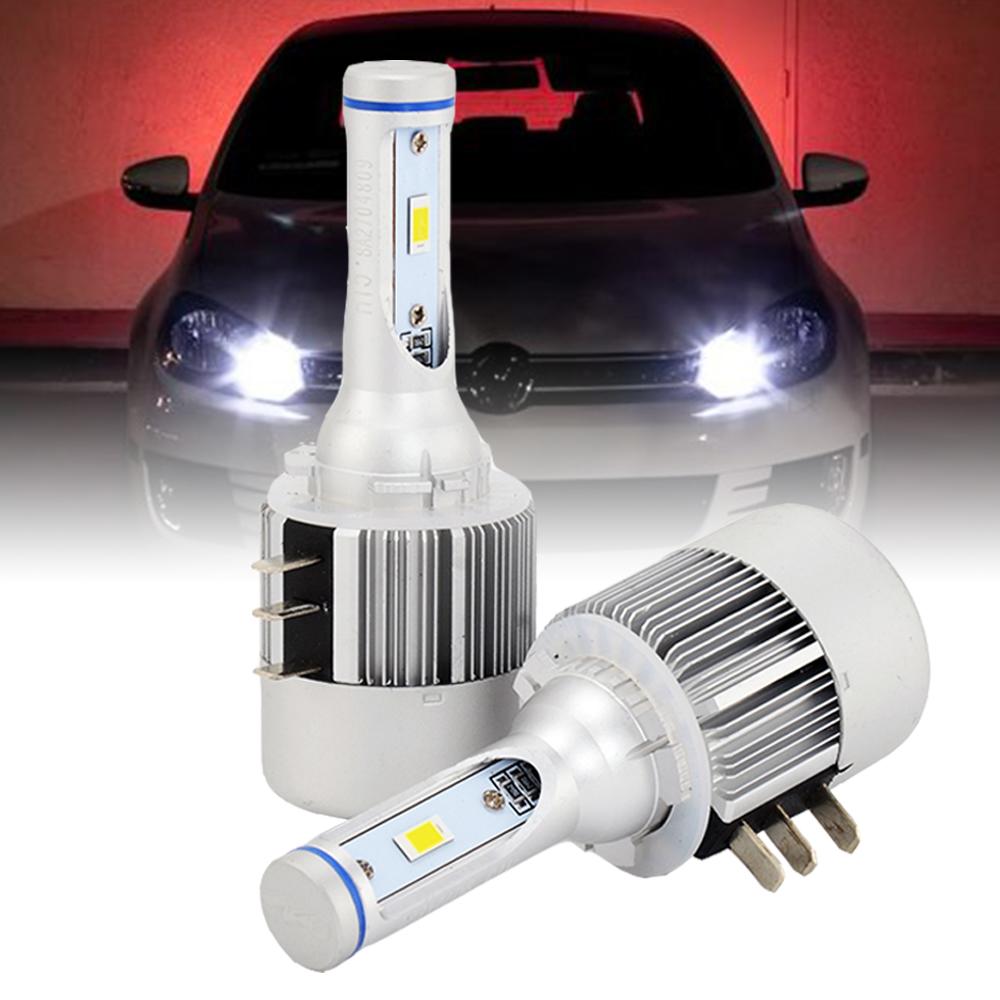 Send this to a friend
For VW GOLF MK6 MK7 H15 V8 LED DRL High Beam Flash Bulbs 6000k
Product details
H15 LED Headlight Conversion Kit. No modifications required, no adapters needed, just plug them straight in and off you go. Fitment takes 30 seconds!!
Please check your Golf MK6 or MK7 uses the H15 bulb fitment, not all do. Some use standard 501 sidelight bulbs. Most use the combined H15 DRL / High Beam.
OUR PROMISE
- 99% CanBus Safe - No Errors (some vehicles might require an additional resistor)
- 100% Plug & Play
- Flip Chip (better than COB) operates at a lower temp
- Perfect Beam Pattern!
- DRL FUNCTION + HIGH BEAM
- Headlight cover fits back on - doesn't void your warranty
FINALLY A BEAM PATTERN THAT DOESNT BLIND ONCOMERS!
How can that be you say?
1. This kit has the new Epistar Flip Chips mounted in perfect position just for the VW headlight enclosure
2. 7600lms - MORE THAN ENOUGH! Standard halogen bulbs are 1600lms.
BUY CHEAP, BUY TWICE. BUY QUALITY, BUY ONCE!
- Backed up by a 2 YEAR WARRANTY these LED upgrades are simply the best. Settle for nothing less.
SPECIFICATIONS
- Immediate on/off response
- PURE WHITE colour 6500k - no nasty blue tinge
- Brightness - 7600 lm
- Voltage - DC 12V - 24V
- Wattage - 72 W
- Leds - Flip Chips (Better than COB)
- Lifetime - 50,000 hours
- CANBUS - Yes (Without error on dashboard)
- No tools required, PLUG & PLAY
- Incredibly low power consumption
- 24 months warranty
- Price is per pair (2 bulbs)
Product reviews
2 reviews
I went through two sets before these.. rubbish! These are good quality and they actually work with no lights on the dash. And most importantly the service is 5 star, Brilliant communication and the delivery wasn't even 24hrs Thanks guys Happy customer
So I've been after some good bulbs for the Golf for a while, trawled through loads of them. These bulbs from Lightec Autostyle are insanely good. Seriously the pics don't do them justice. The build quality is superb and they took 5 mins to put in. No errors, came on instantly. If you want to upgrade your bulbs see these guys