LIGHTEC H7 LED Headlight Bulbs 6500K White 60W 10000 Lumens 300% Brighter 1:1 Mini Size Wireless Plug and Play High Beam Low Beam
LIGHTEC H7 LED Headlight Bulbs 6500K White 60W 10000 Lumens 300% Brighter 1:1 Mini Size Wireless Plug and Play High Beam Low Beam - Lightec Autostyle
LIGHTEC H7 LED Headlight Bulbs 6500K White 60W 10000 Lumens 300% Brighter 1:1 Mini Size Wireless Plug and Play High Beam Low Beam - Lightec Autostyle
---
This is the brightness of each bulb, measured in Lumens (lm)
10000 Im
This is the current draw of each bulb, measured in Milliamps (mA)
1500 mA
This is the CanBus compatibility of the LEDs, measured as a percentage (%)
95 %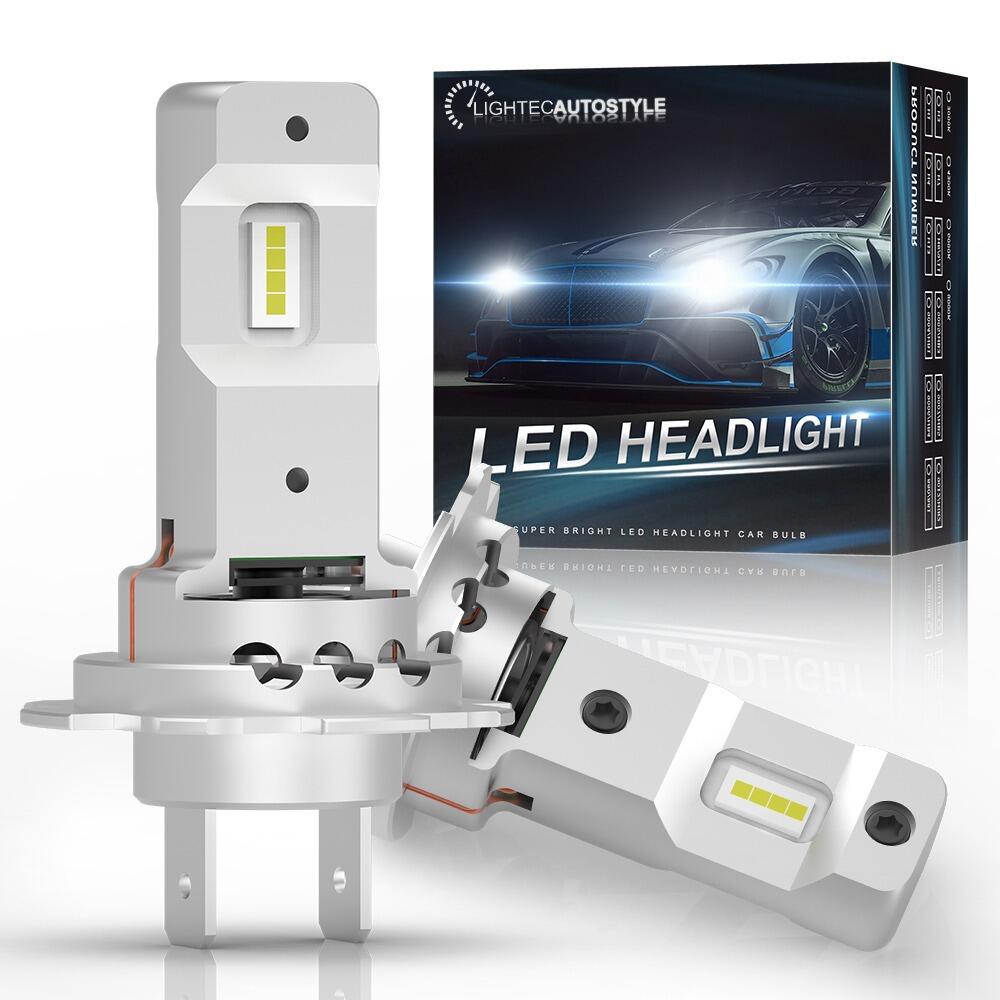 Send this to a friend
LIGHTEC H7 LED Headlight Bulbs 6500K White 60W 10000 Lumens 300% Brighter 1:1 Mini Size Wireless Plug and Play High Beam Low Beam
Product details
Pair (2pcs) OEM Sized 1:1 PLUG & PLAY High Power CSP LED Headlight Bulbs
Our unique product giving fantastic light output with no extra wires, drivers or control boxes. Completely wireless installation, and work without any adapters or modification. Straight swap for your standard bulb. 
KEY BENEFITS:
Each LED headlight bulb has the latest 2023 CSP high power LED chips which emit a 6000k bright white colour. Super Bright giving 10000 LUMENS LIGHT OUTPUT (5000lms per bulb) Considering these are exact like for like size as OEM halogen & 100% plug & play, the light output is AMAZING!
Each bulb gives a equivalent output of 120w which is brighter than your equivalent 55w Halogen Bulb. Significant increase in brightness over the halogen bulb without being over the top and producing glare!
All bulbs are OEM SIZED! Many LED headlight upgrades are big, bulky, have fans and do not fit. These are guaranteed to fit and replace any standard halogen OEM bulbs.
100% BEAM ACCURACY. Like for like beam pattern with OEM halogen bulb
- Precise beam pattern tech. These LED bulbs bounce light around in the correct places, unlike after-market HID kits. You will get an accurate precise MOT compliant beam pattern
Built-in IC Circuit of wide Voltage Range 10-30V AC to prevent LED Bulbs from being damaged by voltage variation and spikes. Fanless - No radio interference, UV or IR radiation.
Built-in CanBus error free controller has up to 95% error free on all European or Japanese cars like Audi, Mercedes Benz, Volkswagen (VW), Dodge, ect. Some cars may require additional load resistor
TECHNICAL SPECIFICATIONS:
- 30w LED bulbs (120w halogen equivalent) 
- 10000 lumens (over 3x brighter than stock halogen)
- True 1:1 mini size 
- Aircraft grade aluminium shell
- 2023 CSP LED chip technology
- 100% correct beam pattern
- Actual service life exceeds 50,000 hours
- IP67 waterproof
- 6000 kelvin pure white colour temperature
- Lightec 2 Year UK Warranty
2 YEAR WARRANTY
Fully covered by Lightec 2 Year Warranty. Any problems whatsoever in 2 years we will replace with new. We have been in the lighting business for over 15 years. We honour our warranties, are based in Cheshire, UK and are always happy to help.
Product reviews
2 reviews
Put these in my camper van and I have to say they are the best compact H7 LED I have ever used (and I have tried many!) Hope they last because they are fantastic! Have also posted pictures on the camper group so you should be getting a few more sales :) Thanks, Dan
Just installed these in my Fiesta and WOW! They are nicely brighter and so much whiter than standard. No glare and fitment took my hubby 5 minutes. They went straight into the OE holder and work a dream. Highly recommend