2x 3 SMD Fuse Festoons Pure White LED High Power 5730 Chips 31mm 36mm 39mm 41mm
2x 3 SMD Fuse Festoons Pure White LED High Power 5730 Chips 31mm 36mm 39mm 41mm - Lightec Autostyle
2x 3 SMD Fuse Festoons Pure White LED High Power 5730 Chips 31mm 36mm 39mm 41mm - Lightec Autostyle
---
---
This is the brightness of each bulb, measured in Lumens (lm)
100 Im
This is the CanBus compatibility of the LEDs, measured as a percentage (%)
100 %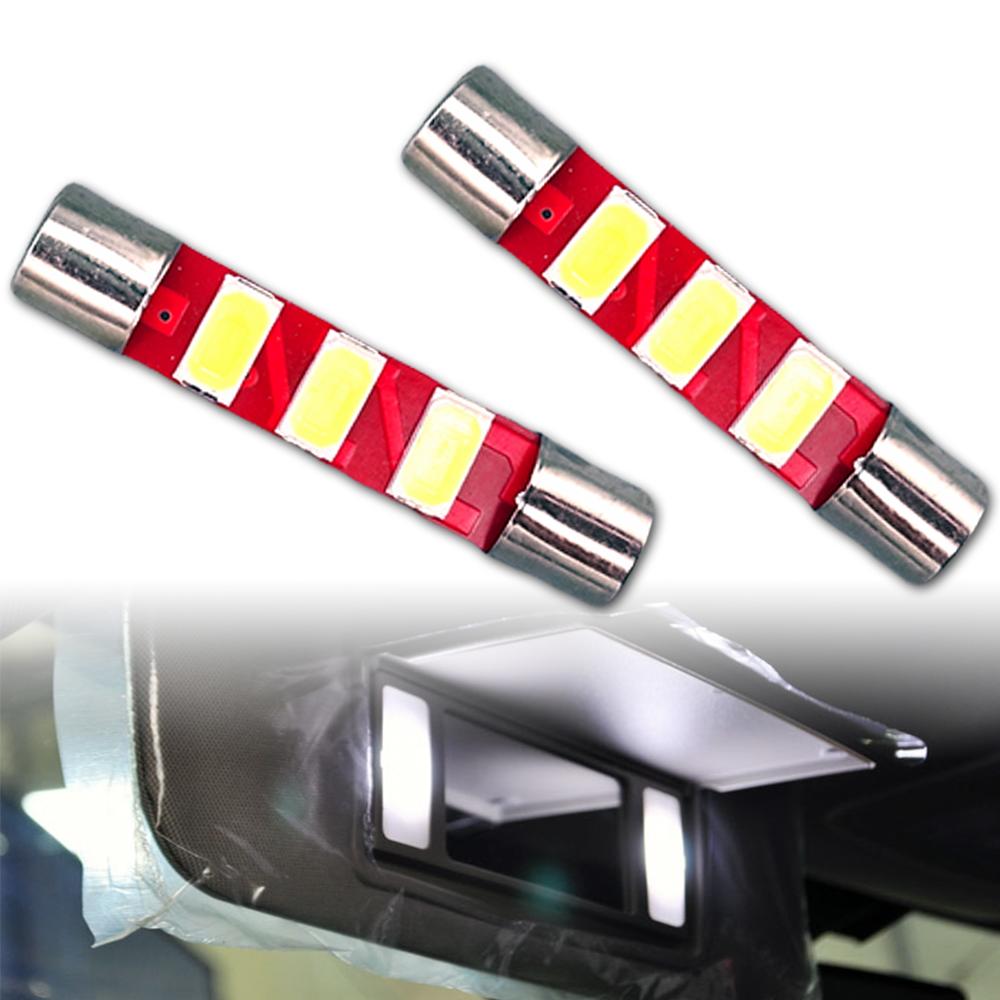 Send this to a friend
2x 3 SMD Fuse Festoons Pure White LED High Power 5730 Chips 31mm 36mm 39mm 41mm
Product details
LIGHTEC HIGH POWER FUSE BULLET SUNVISOR VANITY MIRROR FESTOON LEDS
Bulbs sold in pairs (2pcs)
3 REVOLUTIONARY HIGH POWER 5730 CHIP
Packing over 200lm brightness per pair! These LEDs really are something else! Brightest on the market in this fitment!
CanBus Safe
These 5730 SMD chips are a real game changer. Much brighter than traditional, older 5050 SMD chips.
High quality high power range for greater heat dissipation and prolonged lifespan
SIZES AVAILABLE
- 31mm
- 36mm
- 39mm
- 41mm
SPECIFICATIONS
- Immediate on/off response
- LED QUANTITY: 3 HIGH POWER LEDS
- PURE WHITE colour - no nasty blue tinge
- Brightness - 200lm
- Voltage - DC 12 V
- Wattage - 2 W
- Lifetime - 50,000 hours
- Type - Fuse / Bullet Festoon
- Polarity - YES (if no immediate illumination simply refit the LED the other way around)
- CANBUS - Yes (Without error on dashboard)
- Incredibly low power consumption
- 2 YEAR LIGHTEC WARRANTY
2 YEAR WARRANTY:
Fully covered by Lightec 2 Year Warranty. Any problems whatsoever in 2 years we will replace with new. We have been in the lighting business for over 15 years. We honour our warranties, are based in Cheshire, UK and are always happy to help.

Product reviews
Be the first to review this product.