H7 Super Slim Fanless LED Conversion Car Headlight Bulbs Kit 5700K Xenon White
H7 Super Slim Fanless LED Conversion Car Headlight Bulbs Kit 5700K Xenon White - Lightec Autostyle
H7 Super Slim Fanless LED Conversion Car Headlight Bulbs Kit 5700K Xenon White - Lightec Autostyle
---
---
This is the brightness of each bulb, measured in Lumens (lm)
1800 Im
This is the current draw of each bulb, measured in Milliamps (mA)
1500 mA
This is the CanBus compatibility of the LEDs, measured as a percentage (%)
90 %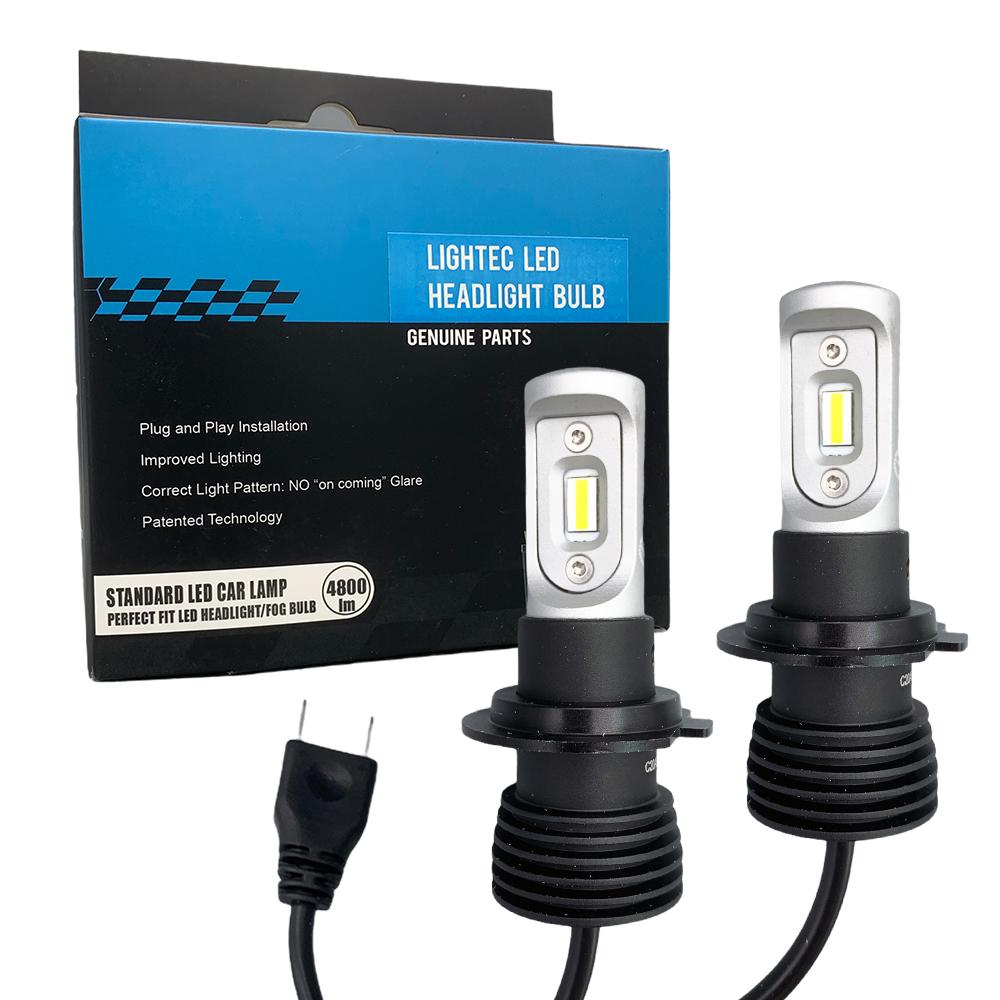 Send this to a friend
H7 Super Slim Fanless LED Conversion Car Headlight Bulbs Kit 5700K Xenon White
Product details
BRAND NEW TO MARKET...... THE V10 RANGE
- THE FIRST SUPER SLIM HALOGEN SIZED H7 LED BULBS KIT
H7 LED Headlight Conversion Kit that will fit more cars due to its innovative design making it the smallest most powerful little bulb on the market. Fitment takes 30 seconds!! These are the only LED upgrade bulbs that tick every box; SUPER BRIGHT & SUPER SLIM. With these you will not need to modify your headlight housing like with other bigger LED bulbs
#GAMECHANGER
FINALLY A BEAM PATTERN THAT DOESNT BLIND ONCOMERS!
How can that be you say?
1. This kit has the latest super powerful HGL4 LED Flip Chips mounted in perfect position
2. 1800lms each bulb (3600 total) - MORE THAN ENOUGH! Standard halogen bulbs are 1200lms each, when you start doubling this amount, or even trebling it the light bounces all around the inside of the headlight and dazzles oncoming traffic. Our units are 50% brighter than standard to the point until which the beam pattern remains perfect - you can see this from our pictures. #GAMECHANGER
FANLESS DESIGN
Fans are great for cooling computers - not headlight leds! What happens when the fan stops = melting, or worse, FIRE!
These are not prone to overheating, the clever aircraft aluminium heatsink body on the rear of the LED cool the lights more than adequately. Also fans are a breeding ground for all sorts of radio interference, not good 
#GAMECHANGER
BUY CHEAP, BUY TWICE. BUY QUALITY, BUY ONCE!
- Backed up by a 2 YEAR WARRANTY these LED upgrades are simply the best. Settle for nothing less.
SPECIFICATIONS
- Immediate on/off response
- PURE WHITE colour 5700k - no nasty blue tinge
- Brightness - 3600 lm
- Voltage - DC 6V - 32V
- Wattage - 16 W
- Leds - FLIP CHIP - 8x HGL4 LED Chips per Bulb
- Lifetime - 50,000 hours
- Waterproof Level - IP68
- CANBUS - may require additional resistors on CanBus vehicles
- No tools required, PLUG & PLAY
- Incredibly low power consumption
- 24 months warranty
- Price is per pair (2 bulbs)
NOW BOASTING 6v DRL FUNCTION
If your headlights have a 6v DRL function these LEDs will illuminate at half power with 6v input
Product reviews
1 review
Very good quality and super slim design. Fitted perfectly in my BMW 2 series headlamp which has limited space. And was canbus error free. Amazing brightness from such a small fanless bulb too! Very happy, thanks Lightec!