For Mercedes C Class W204 2007-2014 4x CanBus 24 SMD High Power Amber Orange LED W5W T10 501 Indicator Bulbs
For Mercedes C Class W204 2007-2014 4x CanBus 24 SMD High Power Amber Orange LED W5W T10 501 Indicator Bulbs - Lightec Autostyle
For Mercedes C Class W204 2007-2014 4x CanBus 24 SMD High Power Amber Orange LED W5W T10 501 Indicator Bulbs - Lightec Autostyle
---
This is the brightness of each bulb, measured in Lumens (lm)
576 Im
This is the current draw of each bulb, measured in Milliamps (mA)
220 mA
This is the CanBus compatibility of the LEDs, measured as a percentage (%)
100 %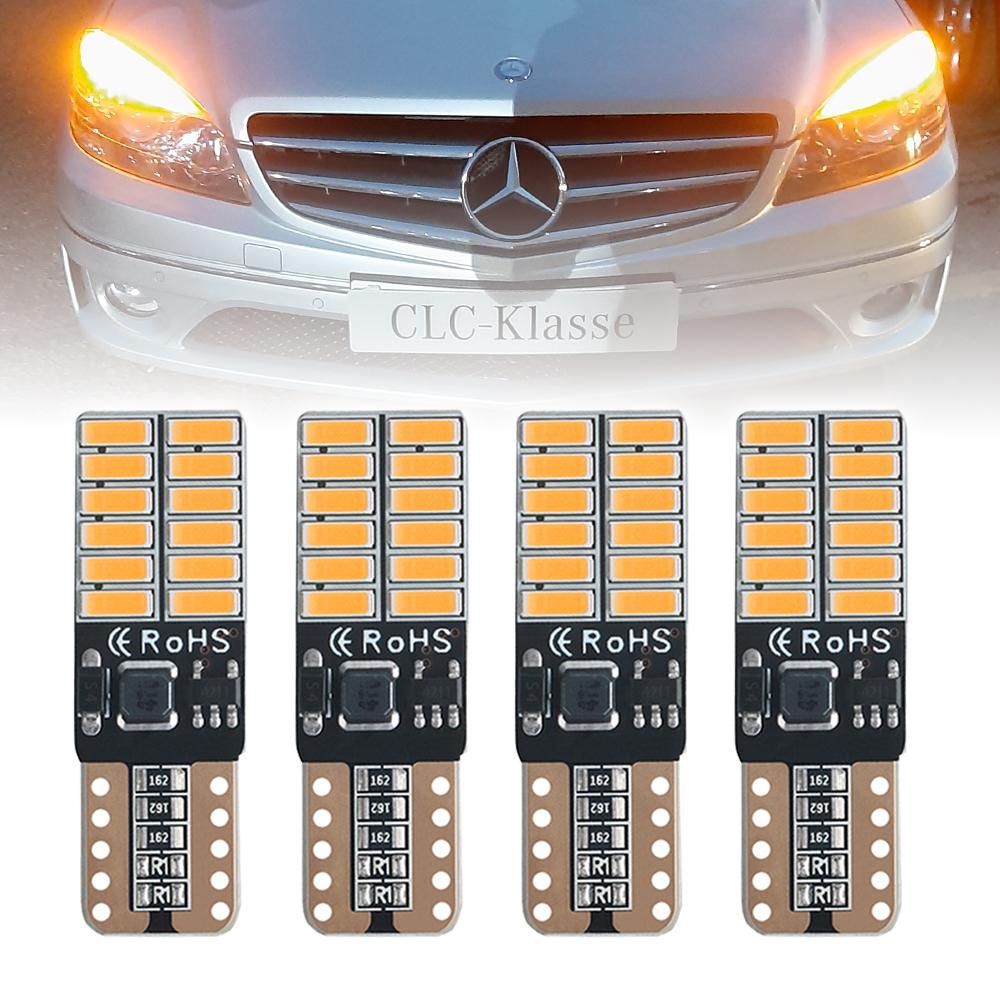 Send this to a friend
For Mercedes C Class W204 2007-2014 4x CanBus 24 SMD High Power Amber Orange LED W5W T10 501 Indicator Bulbs
Product details
4x LIGHTEC 24 SMD AMBER CANBUS FLAT DOUBLE SIDED LEDs
These premium LEDs have the super bright high power 4014 chips. Each SMD chip is 70% brighter than usual entry level 3528 / 5050 SMD chips. Each LED bulb is hand made, hand soldered and crafted by skilled technicians. 
Fits perfectly in Mercedes C Class W204 [2007 - 2014] for front indicators. The C Class uses 2 bulbs in each indicator. 4 LEDs included. Tried and Tested, no hyperflashing or canbus errors
FINALLY A BULB WHICH LASTS A LONG TIME - How can you say?
1. These bulbs have a wider input voltage range so if your car spikes the bulb will not blow (like cheap LEDs do)
2. 576lms - MORE THAN ENOUGH! Standard halogen bulbs are 50-100lms, so these offer a lot more light output
BUY CHEAP, BUY TWICE. BUY QUALITY, BUY ONCE!
- Backed up by a 1 YEAR UK WARRANTY these LED upgrades are simply the best. Settle for nothing less.
SPECIFICATIONS
- 501 / T10 / W5W Wedge Fitment
- Canbus Safe, Error Free
- Immediate on/off response
- Dimensions: 30mm x 10mm x 3mm
- 24x SMD chips on each bulb
- Each bulb over 500 lumens
- 100,000+ hour lifetime
- CE & ROHS Compliant
- Incredibly low power consumption
- 12 months warranty
- Price is for 4pcs
FITMENT
Mercedes C Class W204 [2007 - 2014]
NO POLARITY
These latest technology LEDs have no polarity. So you can plug them straight in and they work. No need to fiddle and turn them around. Function is same as standard bulbs but with much higher brightness, and more economical / green energy consumption
Product reviews
Be the first to review this product.