H7 35w U10S Asic Smart CanBus HID Xenon Conversion Slim Kit 6000K Quality Metal Bulbs
H7 35w U10S Asic Smart CanBus HID Xenon Conversion Slim Kit 6000K Quality Metal Bulbs - Lightec Autostyle
H7 35w U10S Asic Smart CanBus HID Xenon Conversion Slim Kit 6000K Quality Metal Bulbs - Lightec Autostyle
---
This is the brightness of each bulb, measured in Lumens (lm)
3600 Im
This is the current draw of each bulb, measured in Milliamps (mA)
3100 mA
This is the CanBus compatibility of the LEDs, measured as a percentage (%)
100 %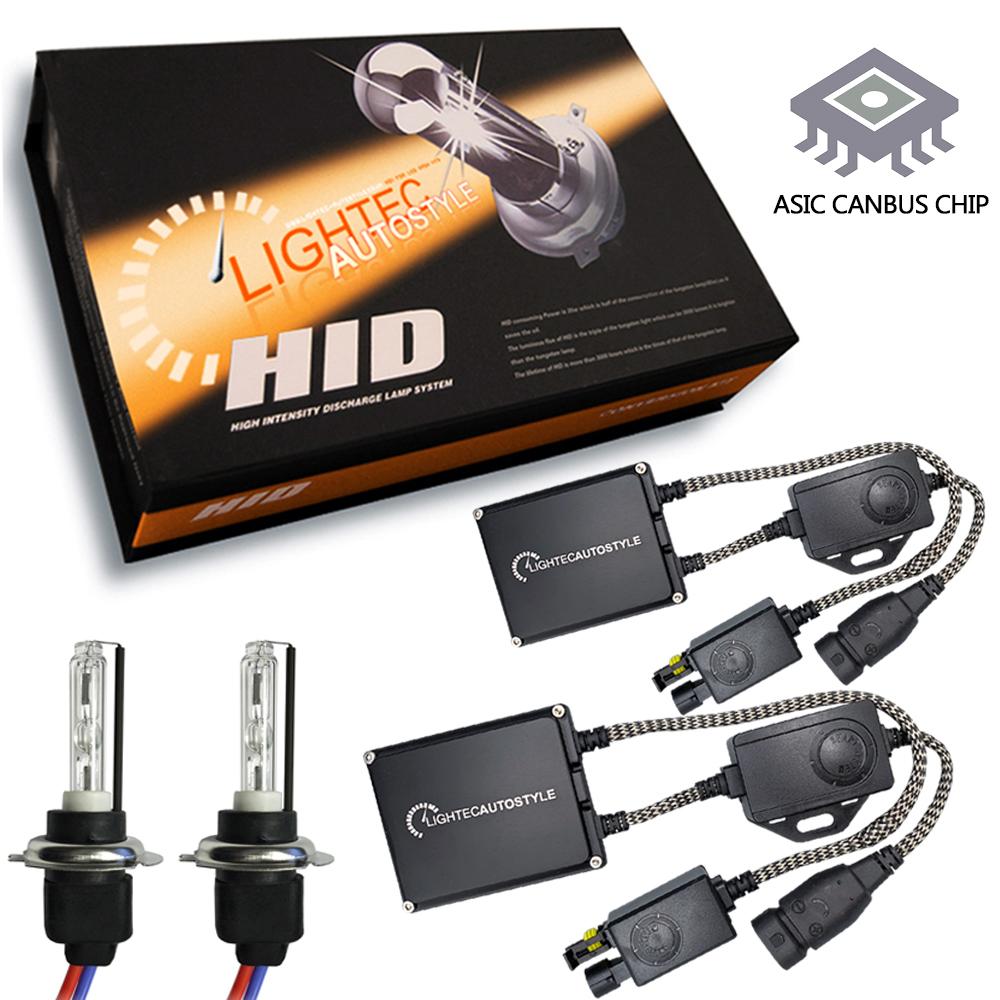 Send this to a friend
H7 35w U10S Asic Smart CanBus HID Xenon Conversion Slim Kit 6000K Quality Metal Bulbs
Product details
High Intensity Discharge Smart ASIC CanBus HID Kit
- 300% more light output
- Ballast E-Mark-E13: 10R-05 13860 
- Fast response on/off smart ballasts
- Strong CanBus system effective on 99% vehicles 
- Low voltage start up system so no flickering on start up
- Super slim ballast design
- EMC/EMI: strong anti-interference technology to avoid radio interference issues
- Last 10x longer than standard halogens
- Enhanced peripheral vision
- Improved down-road illumination
- Lower power consumption
- Easy fitment guides supplied, takes around 20-40 minutes to fit
SLIMLINE BALLASTS
These are high quality CanBus Lightec Autostyle AC ballasts (not the awful cheap DC  ballasts out there). They are slimline in size so they will hide away nice and tidy in any vehicle.
 
SPECIFICATIONS
Input voltage:9~16V 
Starting current:≥4A 13.5V 
Steady Time:≤ 10S 6. 
Starting Voltage:23000V±3000V 
Steady Current:13.5V 3.1A (35W);
Output Power:35W±1W ; 
Output Voltage:AC85±17V 
Operation Temperature:-45℃~+105℃ 
Efficiency:≥85% 
Lifespan:>3500 hours; 
Anti-electromagnetic interference:S95/54/EC; 
Automatic protection for output open circuit/short circuit in 0.5 seconds; 
Reverse polarity protection; 
Shockproof, waterproof and dustproof 
Certification: CE, E4& ISO-9001:2000 Approved
QUALITY METAL BASE HID BULBS
These are high quality metal based HID bulbs. They have silicone wires for ultimate protection.
WARRANTY & MONEY BACK  GUARANTEE
These HID kits come with a return to base full 2 YEAR WARRANTY. If anything goes wrong with your kit in the next 2 years, simply return it and we will replace with new for you. 
OUR FOCUS ON  QUALITY
All of our HID kits are tested  before dispatch. We are a UK based supplier of HID kits and accessories.  Be very careful buying these kits overseas. The disadvantages of this  are significantly longer delivery times and worse than that is import  fees being charged upon delivery of the kit. What you see is what you  get with our kits. Each kit is verified by the International Standards  Organisation and a full 2 year warranty is supplied with each kit. If  you are dissatisfied with any of our products you can return them within  14 days for a full no-nonsense refund

WHAT'S IN THE BOX?
-   2 x 35w Slimline ASIC CanBus HID AC Ballasts
-   2 x H7 6000k Ice White Metal Base HID Bulbs
-   English Instruction Fitment Guide
-   All Brackets Screws and Tie Wraps
Product reviews
1 review
I have tried so many so called canbus HID kits on the market and they all gave my BMW dash warning errors. Finally, I have found a kit that does not! This really does what it says on the tin! Amazing quality and quick delivery. Very happy :)