For Audi TT MK2 8J 2006-2014 *Premium* High Power 12pc White LED Interior Light Upgrade Kit
For Audi TT MK2 8J 2006-2014 *Premium* High Power 12pc White LED Interior Light Upgrade Kit - Lightec Autostyle
For Audi TT MK2 8J 2006-2014 *Premium* High Power 12pc White LED Interior Light Upgrade Kit - Lightec Autostyle
---
This is the brightness of each bulb, measured in Lumens (lm)
500 Im
This is the current draw of each bulb, measured in Milliamps (mA)
240 mA
This is the CanBus compatibility of the LEDs, measured as a percentage (%)
100 %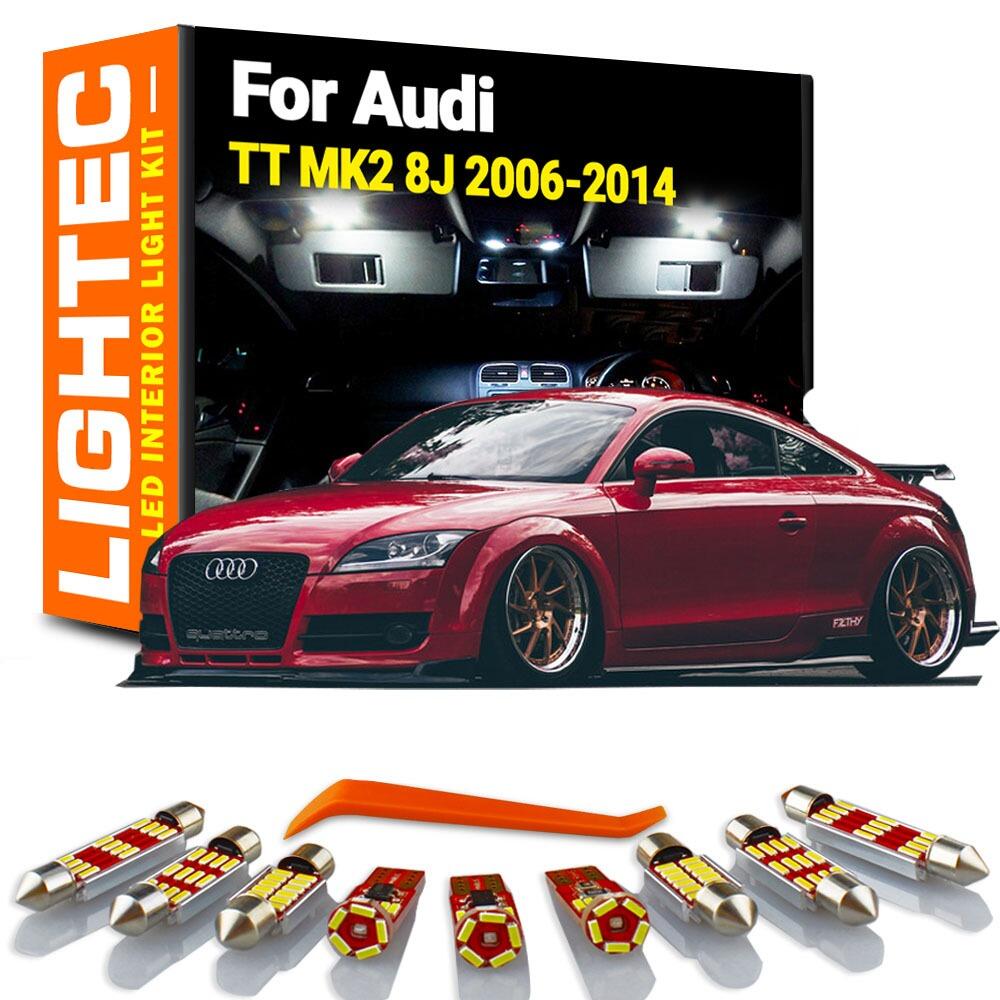 Send this to a friend
For Audi TT MK2 8J 2006-2014 *Premium* High Power 12pc White LED Interior Light Upgrade Kit
Product details
Full 12 piece PREMIUM Plug & Play kit Transform your entire Audi TT MK2 8J with our kit!
Most complete LED kit on the market to fit Audi TT MK2 8J all models [2006 - 2014]
FREE PRY TOOL INCLUDED
PREMIUM UPGRADE KIT  -  with the latest 4014 super bright SMD chips packing over 10x brightness over standard!
All the LED's are Plug&Play – straight swap
Life Span: 50000 hours 
CANBUS Safe, Quality LEDs, 1 Year Warranty. 10x BRIGHTER than standard bulbs!
Low Power Consumption | High Brightness
INCLUDED IN THE KIT ARE
- Front Reading Lights
- Rear Reading Lights
- Courtesy Lights
- Door Puddle Lights
- Footwell Lights
- Glove box light
- Boot light
- Sunvisor Lights
+ FREE Trim Pry Tool
NOTE: The picture of the LEDs used are an example of the style of bulbs we use in the kit, to prevent other sellers copying our listings we do not show the exact bulbs sold in this kit. The kit includes all the bespoke fitting LEDs you require for your Audi TT MK2 8J 
1 YEAR WARRANTY
Fully covered by Lightec 1 Year Warranty. Any problems whatsoever in 1 year we will replace with new. We have been in the lighting business since 2002. We honour our warranties, are based in Cheshire, UK and are always happy to help.
Product reviews
Be the first to review this product.