2x BAU15S PY21W 581 Orange Amber High Power LED CanBus Turn Signal Indicator Light Bulbs
2x BAU15S PY21W 581 Orange Amber High Power LED CanBus Turn Signal Indicator Light Bulbs - Lightec Autostyle
2x BAU15S PY21W 581 Orange Amber High Power LED CanBus Turn Signal Indicator Light Bulbs - Lightec Autostyle
---
This is the brightness of each bulb, measured in Lumens (lm)
2671 Im
This is the current draw of each bulb, measured in Milliamps (mA)
2.16 mA
This is the CanBus compatibility of the LEDs, measured as a percentage (%)
100 %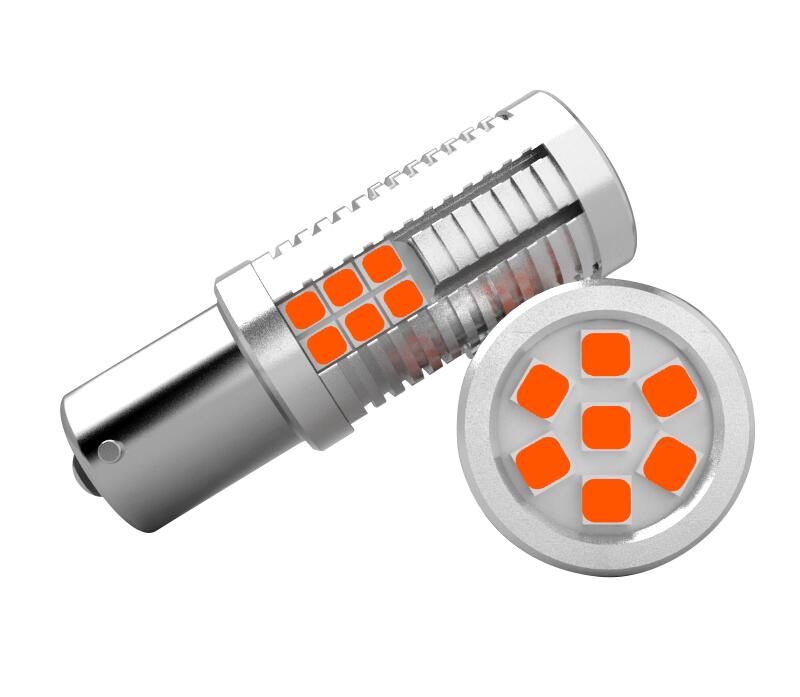 Send this to a friend
2x BAU15S PY21W 581 Orange Amber High Power LED CanBus Turn Signal Indicator Light Bulbs
Product details
#GAMECHANGER
OUR PROMISE
- 100% CanBus Safe - No Errors
- 100% Plug & Play
- Ultra Bright Samsung LEDs (much better than old 5050 industry standard)
- No resistors required - GUARANTEED!
- Brand New CANBUS SUPERCHIP INSIDE
FINALLY A BAU15S LED THAT DOES WHAT IT SAYS ON THE TIN!
How can that be you say?
1. This brand new to market, brand new design LED has a new superchip canbus decoder giving a total power consumption of over 27 Watts - THE SAME AS A STANDARD HALOGEN BULB! Thus, no errors on even the most stubborn canbus vehicles!
2. Combining high led power, with the new canbus superchip means this BAU15S led will work canbus error free in ANY VEHICLE - NO HYPERFLASHING GUARANTEED!
INSANE BRIGHTNESS
Each bulb has 30pcs high quality LED chips. 28w, 2600 lumens light, your turn signal will be noticed immediately. 
PLUG & PLAY
CANBUS system can prevent 100% hyper flash and error warning. No need to add extra resistors or parts anymore. They are designed to directly replace the factory halogen lamp.
INTELLIGENT TEMPERATURE CONTROL (ITC)
Excellent Intelligent Temperature Control system will protect bulbs against excessive current and overheating and ensure a longer lifespan.
SAFETY PROTECTION
Load MINI fuses to protect the bulbs and your cars against the instantaneous high current. Safer installation and use.
SPECIFICATIONS
- Immediate on/off response
- Amber / Orange colour
- Brightness - 2671 lm per bulb
- Voltage - DC 12V - 18V
- Working current - 2240ma
- Leds - 30x Samsung SMDs per bulb
- Lifetime - 100,000 hours
- CANBUS - 100% Yes (Without error on dashboard)
- No tools required, PLUG & PLAY
- Dimensions - 55mmx17mm
- Price is per pair (2 bulbs)
BUY CHEAP, BUY TWICE. BUY QUALITY, BUY ONCE!
- Backed up by a 2 YEAR WARRANTY these LED upgrades are simply the best. Settle for nothing less.
Product reviews
1 review
I have tried so many offset pin indicator bulbs in my Ford Focus and they all hyperflashed. These do not hyper-flash at all, they are amazingly bright and give no canbus warning errors. Very impressed with these bulbs, have made my crappy (almost dangerous) standard indicators so much brighter, and safer! Thanks Lightec :)