2x CanBus Error Free 8 SMD High Power LED Pure White W5W T10 501 Sidelight Bulbs
2x CanBus Error Free 8 SMD High Power LED Pure White W5W T10 501 Sidelight Bulbs - Lightec Autostyle
2x CanBus Error Free 8 SMD High Power LED Pure White W5W T10 501 Sidelight Bulbs - Lightec Autostyle
---
This is the brightness of each bulb, measured in Lumens (lm)
100 Im
This is the current draw of each bulb, measured in Milliamps (mA)
150 mA
This is the CanBus compatibility of the LEDs, measured as a percentage (%)
80 %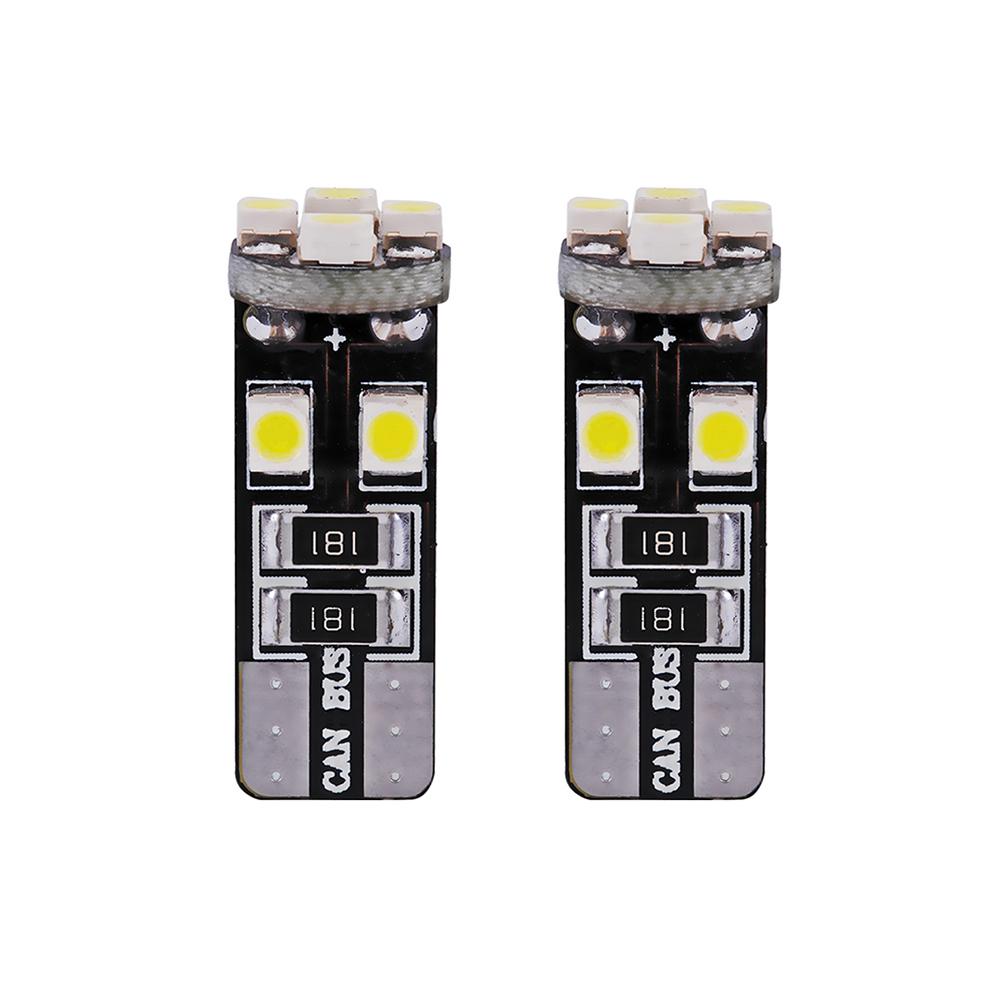 Send this to a friend
2x CanBus Error Free 8 SMD High Power LED Pure White W5W T10 501 Sidelight Bulbs
Product details
2x LIGHTEC PURE WHITE CANBUS LEDs
Our SMD chips are of the best quality. They are hand soldered (not factory bodged) and include the best PURE WHITE LED chips. Our chips do not have that cheap looking blue tinge, that is guaranteed! Lovely pure white LED colour
Can be installed anywhere that takes the 501 fitting: sidelights, interior, licence plate, rear lights, door lights, make up lights, glove box light, indicator lights
Also known as T10 / w5w / 194 interface.
SPECIFICATIONS
- 501 / T10 / W5W Wedge Fitment
- Canbus Safe, Error Free
- Immediate on/off response
- 8 SMD chips on each bulb
- Each bulb 100 lumens
- 100,000 hour lifetime
- CE & ROHS Compliant
- Incredibly low power consumption
- 12 months warranty
- Price is for a pair (2pcs)
POLARITY
LEDs are polarity sensitive. If at first they do not illuminate simply remove, turn through 180° and refit. Also, many modern cars now operate canbus systems. If you experience any canbus issues such as dash warnings or LED flickering please contact us as we sell a wide range of error cancelling components
CANBUS RATING
These LEDs are 100% CanBus safe inside any car! For outside use such as sidelights etc. they LEDs have a Lightec CanBus rating of 8 out of 10. Meaning they work error free on most vehicles. Some may require additional resistors, or our super canbus LEDs. 
Product reviews
Be the first to review this product.